Remember Bailey?
The beautiful IGAB community funded a very special trike for Bailey back in 2011.
The photo of Bailey and his gorgeous sister Jasmine from back then (seen here on the right) has always been one of my favourite IGAB photos.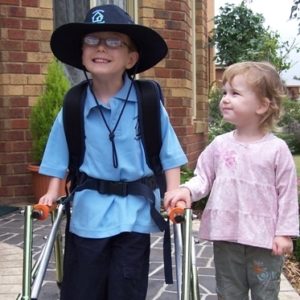 We are thrilled to see how he has grown into such a lovely young man – and even more thrilled to be able to help him on the next part of his journey.
Bailey is now 14 years old and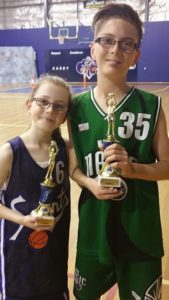 a budding basketball star. Despite his Cerebral Palsy and right hand difference, Bailey has been playing basketball for 4 years now and it has become his absolute passion.  Facing surgery that will stop him from playing normal basketball, Bailey is undeterred and is instead planning a future as an elite basketball wheelchair player instead! He's already in a weekly team and has his eyes set on representing Australia at the Paralympics. Go Bailey!
Bailey is currently using a borrowed wheelchair for his weekly games but desperately needs his own customized chair to suit his physical needs in order to excel by practising daily to reach his goals. Wheelchair basketball will also maintain his cardiovascular, upper body and core strength fitness levels while being socially inclusive. We think that the kind of determination Bailey is showing should be rewarded so we've created this appeal to raise the $4,650 needed to get Bailey that chair.
If you'd like to help Bailey you can:
donate online at the bottom of this page using PayPal or a credit card (for credit card payments, select the PayPal option and when you are  taken to the PayPal page, select the option to pay with a debit or credit card. You don't need a PayPal account.
make an EFT bank transfer or direct deposit to our bank account: Bendigo Bank, BSB: 633000 Account Number: 137521696 Account Name: I Give A Buck Trading Account (please put the child's name in the reference field)
send a cheque, made out to I Give A Buck to 96 Ceylon Rd, Belli Park, QLD 4562 (simply write the child's name on the back of the chq so that we know what it is for)
All donations $2 and over are tax deductible. Online donations will receive an automatic receipt via email. For other donations, simply contact us by email or by phone on (07) 5442 7414 and we'll send you a receipt. For full details about how your donation will be used, click here.
Save
Save
Save
Save
Save
Save
Save
Save
Save
Save
Save
Save
Save
Save
Save
Save
Updating...