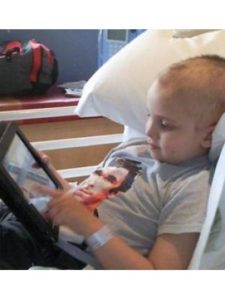 The touch-screen functionality of iPads opens up a completely new world to children whose conditions prevent them from using a traditional keyboard.
There are learning apps available for children of every age to assist with every aspect of their development.
There are amazing communication apps that give a voice to children who would otherwise not be able to communicate with their caregivers. Having access to technologies that remove the enormous levels of frustration that arise from not being able to communicate your needs properly is literally life-changing for the children and carers.
Unfortunately, whilst there is government funding for the specialist apps, there is no funding available for the iPad that is required to run those apps. It would appear that the incoming NDIS has not closed this funding gap for families.
Our iPads Program has also brought great benefit to children who need to spend long periods of time in hospital; providing a link to friends and family and to school. They also provide these children with a much-needed distraction from the reality of their situation.
Our iPads Program provides iPads to:
children living with life altering conditions who are from financially disadvantaged families
all children's hospices across the country
all paediatric palliative care services across the country
This extremely valuable program adds immense quality of life to so many children. The iPads that the Palliative Care Service Providers receive are shared between the thousands of children that use their services over time. It truly is a gift that keeps on giving and we are continually working hard to find grant funding to ensure that the program can continue in the years to come. If you'd like to support this program you can make a general donation here
Current Applications
The 2017 program is now open.
Please note:
this program is not available to families who live within a current NDIS covered area –

unless you have confirmation in writing that the NDIS will not fund an iPad for you. It is important that you apply through the NDIS first so that the NDIA can see how many children require iPads and can factor that information into their planning and perhaps review whether or not iPads can be funded under that scheme.
there is currently a limit of one iPad per family
Click here to download a copy of the 2017 iPads Program Guide to check your eligibility – (you must read this guide before applying for an iPad)
Click here to download a copy of the 2017 IPADS Program Application Form
Save
Save
Save
Save